Introduction: Do you like to eat Dalia in your day-to-day diet? Are you looking for a delicious and easy-to-cook Dalia recipe for weight loss? If yes, you will find a lot of tricks in this health and nutrition guide. So, keep reading.
Dalia is also known as Porridge is a light and tasty dish to start your day. It is not only liked by adults and senior citizens. Even kids like to eat Dalia with some nuts and sweet flavor. It is not only great in taste but offers many benefits to the human body. Consuming Dalia in your diet helps you control weight, improve digestion, feel energetic throughout the day, and many other things. Some people also called it broken wheat and have nutrients value equal or more to wheat.
In most Indian families, Dalia often uses it for breakfast. As more and more people become aware of health, a bowl of basic food like Dalia can solve the problem. In fact, until now, most people realize that it is a storehouse of nutrients and is rich in high fiber. Here are some quick ways to cook Dalia recipes to lose weight.
What can a Bowl of Dalia Do to Your Health? – Amazing Benefits
Consuming Dalia in your diet can help you get rid of many health problems. Let's take a quick overview of the great benefits of eating Dalia or porridge.
It is rich in fiber and has an excellent laxative effect.
Dalia helps flush toxins and waste in the intestines and the human digestive tract.
It can regularize bowel movements, thereby eliminating the risk of constipation.
Due to its high fiber content, it can also reduce the symptoms of diverticular such as abdominal pain, nausea, gas, and many others.
If you have always dreamed of achieving effective weight loss, then Dalia is unparalleled and must be added to your daily diet.
Now, you are aware of some of the health benefits of Dalia for Weight loss and more. Let's talk about the quick and easy Dalia recipe for multiple health benefits
Top and Easy-to-Cook Dalia Recipe for Weight Loss with Step-by-Step Guide
In the following section, we will mention some of the all-time favorite and healthy Dalia recipes for weight loss and other health benefits. It can consume by kids, adults, and old age people.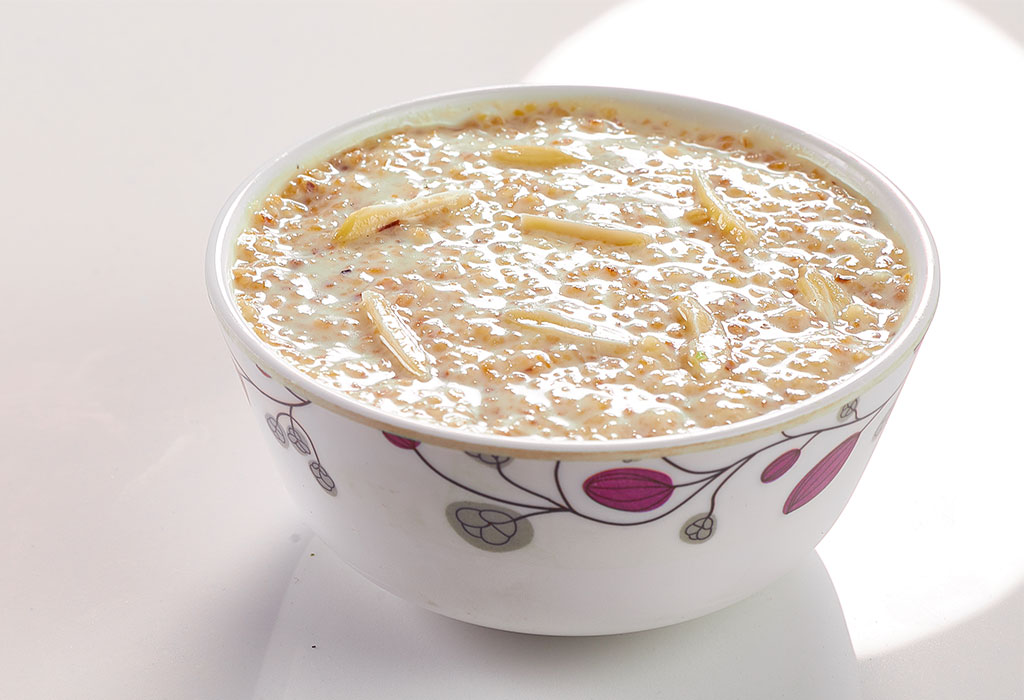 Dalia Recipe for Breakfast in 15-20 mins
A. Salty/ Namkeen Dalia Recipe
Dalia Upma is a salty and healthy dish filled with fresh vegetables. It is one of the most like Indian breakfast recipe. It is extracted from smashed wheat (Dalia) and cooked with various seasonal vegetables. The best quality of Dalia Upma is easy-to-cook and wholesome flavors.
Stepwise Instructions to Make Namkeen Dalia Recipe with useful tricks:
Main Ingredients
1 small bowl Dalia
1 chopped onion, tomato, capsicum, and carrot (You can add vegetables you like)
½ tsp Cumin seeds and Mustard seeds
2 tsp Peanuts, Cashews,
5 curry leaves
Oil/ Ghee
Chopped coriander and lemon for garnishing.
Steps to Cook Healthy and Tasty Upma
Dry the broken wheat on low heat for 3-5 minutes, or until the color becomes fragrant and light brown.
Transfer to a bowl and set aside.
Heat oil in a pressure cooker over medium heat.
Once the oil is hot, add mustard seeds, jeera, cashews, and peanuts. Fry for 10-20 seconds.
Next, add the chopped onions and fry them until the onions become translucent and light brown.
Now add chopped vegetables, salt, and spices. Stir fry for 2-3 minutes.
Add the toasted wheat, stir to combine, and then add 1.5 cups of water. Seal the lid of the pressure cooker.
Boil 2 Upma whistles over low heat.
Let the steam release naturally from the pressure cooker. Serve with coriander and lemon juice, mix well and serve.
B. Sweet Dalia Recipe
If people asked which Dalia recipe they like best, many would choose sweet. The flavor with crisp and flavorful flavors is just WOW. Many love to start the day with the sweet Dahlia. It is a soft-textured porridge with healthy nutrition. It is a healthy and delicious Dahlia. Now, let's look at a quick recipe for Sweet Dahlia in 15-20 minutes.;
Main Ingredients
1 Cup Daliya
2.5 Cups of Water
1 Tablespoon Ghee
1 Liter Whole Milk
1/2 Cup Sugar
1 Teaspoon Cardamom Powder (Elaichi Powder)
8-10 Saffron strands
1/4 Cup Crushed Dried Fruits like Almonds, Cashew Nuts, Pistachios, and Raisins
10-step process to cook Healthy and Yummy Sweet Dalia Recipe for Breakfast
Heat 1 tablespoon of ghee in a pot, then add 1 cup of Daliya (cracked wheat).
Bake on medium-low heat for about 5-8 minutes, until it starts to change color and darken.
Add Dalia and 2.5 cups of water to the pressure cooker. Pressure cook until you whistle.
Then turn the flame down and cook for another 5 minutes. Let the steam escape before turning on the cooker.
Add 1 liter of whole milk to the pot. Boil it for 10 minutes or until the milk is reduced by half.
Continue mixing between the two to mix the milk solids from the side.
Then add the cooked Dalia to the milk and cook for 3-4 minutes.
Now, pour 1/2 cup of sugar into Daliya and stir to combine.
Put some cardamom powder into the sweet Dalia recipe.
Daliya Kheer is ready. Garnish with chopped dried fruits and saffron strands (can be sprinkled). Serve the Dalia at high temperature or room temperature.